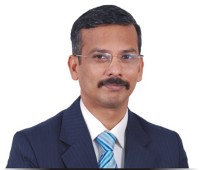 Dr. Lorance Peter,
MD, DNBE (Gastro), DM (Gastro)
Consultant & Chief of Medical Gastroenterology & GI Endoscopy

Dr. Lorance Peter – Consultant and Chief of Medical Gastroenterology and GI Endoscopy at Vikram Hospital Bengaluru has finished his doctorate (DM) in Gastroenterology and Hepatology in 1998 and been practicing in Bangalore since 2000. He graduated from St. Johns medical college Bangalore. He did his MD in internal medicine from the prestigious Post graduate Institute of Medical education and research at Chandigarh and later his doctorate from SGPGI at Lucknow. He was Associate professor of Gastroenterology at St. Johns medical college hospital Bangalore. He heads the Medical Gastroenterology services at the Vikram hospital, Millers road Bangalore, and is well trained in management of gastrointestinal diseases and in performing GI Endoscopic procedures. He has various publications in many medical journals and has been invited as faculty in many conferences. His major interest is Motility disorders of the GI tract and therapeutic Endoscopy. He is well trained and has been doing large number of complex and advanced therapeutic endoscopic procedures including ERCP.